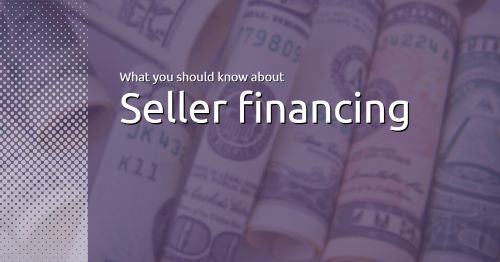 Seller financing is an option for buyers and sellers to work together without a traditional mortgage. Also called owner financing, this type of financing involves the seller providing funding for the home in the form of credit.
Since sellers are often more flexible with financial requirements than banks, this can be an excellent option for a buyer with subpar credit or other financial issues.
Here is some more important information about seller financing arrangements:
How does seller financing work?
In seller financing, the seller acts as the mortgage lender rather than a bank or financial institution. There are typically fewer closing costs involved and different requirements for home appraisals.
Types of seller financing agreements
Different types of agreements are available to fit a wide range of scenarios. The most common types are:
Land contract.
Assumable mortgage.
Lease purchase agreement.
Land loan.
Holding a mortgage loan.
Mechanics of seller financing
In a seller financing agreement, both buyer and seller sign a promissory note with the specific terms of the loan. The buyer pays the amount back with an agreed upon amortization schedule, usually with interest. A seller financing deal often offers the short-term option of requiring a balloon payment within the first several years.
Tips to reduce the seller's risk
Just like a bank or mortgage lender, you take a risk when offering a seller financing agreement. If the buyer defaults on payment, you could be subject to serious legal fees. However, there are some steps you can take to serious legal fees. However, there are some steps you can take to reduce your risk as the lender and seller:
Require at least a 10% down payment.
Use a complete loan application just like a traditional lender would require.
Work with a real estate attorney & knowledgeable real estate agent for help during the process.
Is seller financing a good way to sell your home? If you've paid off your existing mortgage, it can be a great way to make a sale in a tough market. However, many sellers would rather not take the risks. Ultimately, you'll have to weigh the pros and cons in your specific situation.